specials
the january jones! – $16
You don't have to break your diet for this one. A curried lentil veggie burger, mango chutney, arugula, raita, and goat cheese on a wheat bun.
Dog of the Moment: The Warsaw – $14
Chicago Polish Sausage, Applesauce, Sauerkraut, Crispy Potato Shreds, Sour Cream and Chive.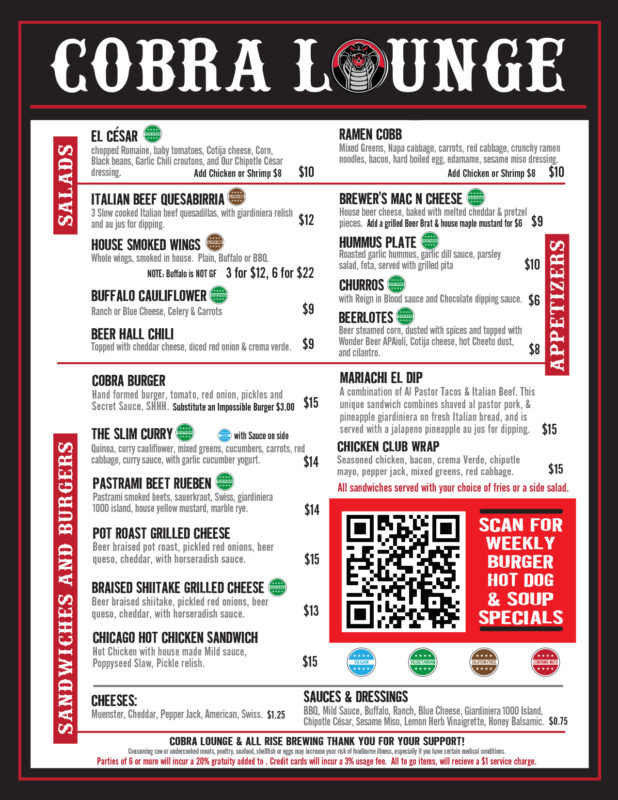 salads
el césar – $10
Chopped Romaine, baby tomatoes, cotija cheese, corn, black beans, garlic chili croutons, and our chipotle cesar dressing
Add Chicken or Shrimp &nbsp – &nbsp $8
Ramen Cobb – $10
Mixed greens, napa cabbage, carrots, red cabbage, crunchy ramen noodles, bacon, hard boiled egg, edamame, sesame miso dressing.
Add Chicken or Shrimp &nbsp – &nbsp $8
appetizers
Italian Beef Quesabirria – $12
Three slow cooked Italian beef quesadillas, with giardiniera relish and au jus for dipping.
HOUSE SMOKED WINGS – 3pc • $12 | 6pc • $22
Full wings, smoked in house.
Buffalo, BBQ, or Barbecoa
buffalo cauliflower – $9
Ranch or Blue Cheese, Celery and Carrots
Beer Hall Chili – $9
Topped with cheddar cheese, diced red onion & crema verde
Brewer's mac n cheese – $9
House beer cheese, baked with melted cheddar & pretzel pieces.
Add grilled beer brat and house maple mustard &nbsp – &nbsp $6
hummus plate – $10
Roasted garlic hummus, garlic dill sauce, parsley salad, feta, served with grilled pita
Churros – $6
with Reign in Blood sauce and Chocolate dipping sauce
Beerlotes – $8
Beer steamed corn, dusted with spices and topped with Wonder Beer APAioli, Cotija cheese, hot Cheeto dust, and cilantro
**soup of the week** – Cup $3.50 || Bowl $6
Chef Jason's House-made soups. Get a cup to start or a bowl to keep you warmed up all day.